ADVANCED BUSINESS MANAGER
THE NEXT GENERATION OF ACCOUNTING AND BUSINESS MANAGEMENT SOFTWARE
No matter how sophisticated a system might eventually become, the basic building blocks are the first step to a streamlined and efficient system.
The ABM Core Accounting System is a robust accounting software solution, designed to fulfil the needs of modern businesses. It acts as the foundation for a streamlined business management system that's right for you
The core ABM software integrates fully with a wide range of optional & industry-specific ABM products which are tailored and adapted so as to meet the unique and specific needs of each customer.
ABM has been designed and developed by accounting, IT and business professionals.
Building on the solid principals of accounting software and paying close attention to the demands of today's business environment, ABM has built an all encompassing business management solution for your business. 
ABM offers comprehensive management reporting, with over 220 standard management and accounting reports included in the standard system.
ABM includes a variety of advanced functions and integrates seamlessly with a wide range of business solutions, providing specialist functionality.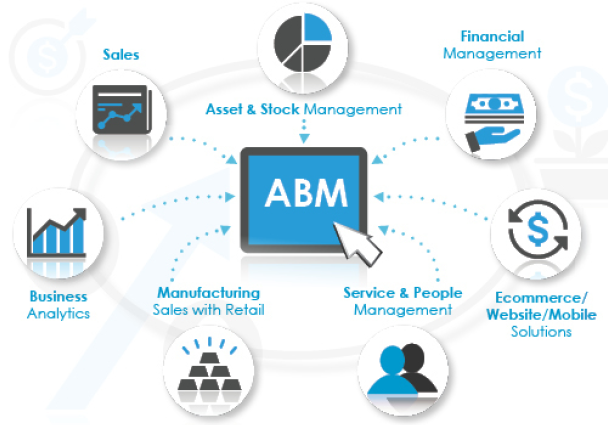 Ajendico Pty Ltd is Australia's largest supplier of Advanced Business Manager software for small to medium businesses.
It is inevitable that when starting a small business, you need to have software that helps you to invoice customers, track stock and debtors and pay employees.   Almost any software package in the marketplace today will do the job nicely.
However, as your business grows and you target the right marketplace for you and success comes your way with new customers and new products, the software that you initially chose to perform those simple tasks starts to cost you time and money.
Deciding to find software that suits your current and future requirements is the first step. Deciding to buy is much easier when you've found the right solution, it can be customized to make you a stand out in your industry and you are partnering with a company that has the skill and the desire to work with you to ensure those goals are achieved.
This is where Ajendico Pty Ltd and Advanced Business Manager can help. Since 1995, our team of qualified Advanced Business Manager software professionals have been doing exactly that, working with business owners to ensure that they continue to grow, year after year, and remain the market leader in their industry.
Ajendico can install products on your in-house server, on a hosted server or in the Cloud using thin client technology. We work with each client to determine the best solution for your business taking into consideration the advantages and disadvantages of each option.
ABM Core System Brochure (PDF)
Case Study - Levco Agencies (PDF)
Case Study - The Track Group (PDF)