JOB COSTING SOFTWARE
The Job costing software module in Advanced Business Manager allows you to produce estimates to help in pricing the value of the job. Ideal for the construction industry, you can enter retention information so that when invoices are raised, the retention amount and due date are automatically calculated and accounted for.
Once the customer gives the approval, you can issue materials directly from the estimate or from supplier quotes that have been obtained and stored during the estimation process. Purchase orders can be created for estimates using a "wizard" function to ensure accuracy and timing for delivery of materials.
TIMESHEETS AND STAFF TRACKING
The time sheeting module allows tracking of multiple staff working on various jobs at different stages and on different types of work. Timesheeting seamlessly integrates with ABM's accounting system. When staff timesheets are entered, they automatically update the job with the relevant costs immediately.
Timesheets can be customized for variable work hours, public holidays and various leave types. Minimum work hours can be specified and time sheets can be setup to stop future postings until current date ranges are completely entered.
If you are looking for a more fully featured product, feel free to browse information on our advanced timesheet module. Developed by Concept Engineering, the Timesheet Management System caters to companies who want a high level of management and control with fast data entry and flexible entry methods.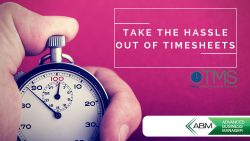 Please click on the image above for a brochure on the Timesheets module for Advanced Business Manager.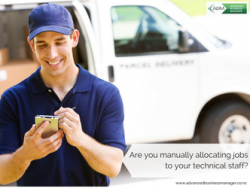 Please click on the image above for information and download the Timesheets mobile apps for Advanced Business Manager.
COST AND DISBURSEMENTS
All types of costs can be tracked against jobs, such as materials, timesheets, labour, cash purchases and subcontractor claims. Invoicing the job via our project invoicing module allows you to see all costs and claims outstanding against budget prior to posting the invoice. You can produce a pro forma invoice for approval prior to posting to your accounts.
Disbursements such as travel expenses and sundry costs can be processed in the timesheets module and posted against the relevant linked jobs, allowing for an easy way for sundry costs to be added to the job costing software module.
A very powerful feature of the job costing software is the cost warning system that can be setup to automatically alert you via email when the costs and / or the charges on any job exceed the estimate.
PROJECT INVOICING
The Project Invoicing module for Advanced Business Manager allows you to produce complex invoices and save them as Pro Forma invoices until the quantity surveyor has checked and approved the claim.
Project invoicing can be automated using the original and subsequent estimates as a template, or you can invoice a list of costs, materials, disbursements and sundry expenses added to each job. When invoicing estimates, ABM project invoicing will keep track of the percentage of each item claimed and the percentage and dollar value yet to be completed and invoiced at a future date which makes it ideal for large projects in construction environments.
The invoice can list and group items at detail or summary level including Parent/child jobs, multiple labour rates, priorities, stages and cost centres and is suitable for use with multiple company operations.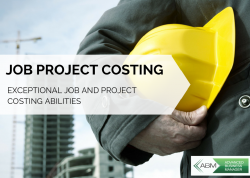 Please click on the image for a brochure on the Project Invoicing module for Advanced Business Manager.
RETENTIONS AND SUBCONTRACT CLAIMS
Advanced Business Manager has specific systems to account for Subcontractor Claims and Retentions against a Job or Project in the job costing software.
When you setup a supplier as a subcontractor, you can assign them to specific tasks or jobs. As the subcontractor submits claims for the work done so far, these can be entered against the related job allowing you to keep track of actual invoices against budgeted cost for that subcontractor.
Subcontractor claims can also manage any tax to be withheld and paid on the supplier behalf.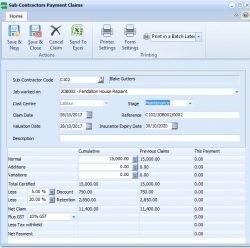 When setting up a job or project, you can set a retention amount to be retained from customer invoices. The system will then track and report on the due date for each amount retained. This saves time and reduces errors when tracking the retention amounts and can make a difference to the profitability of the job or project.
Retentions are not only tracked for customer sales invoices. ABM has the ability to pass on retention amounts to sub contractors as well, so retention on the purchase of services and the sale of services is managed within the job costing software.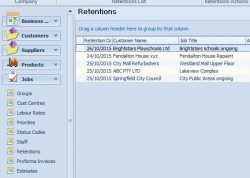 Advanced Business Managers' job costing system allows you to track parent and child jobs or projects and can be used to assist in tracking multiple jobs for the one customer, or branch jobs where reporting and cost controls need to be provided at both branch and head office levels.