Netstock is a cloud based stock management system that focuses on reducing your stock carrying costs, reduces your out of stock issues and at the same time, provides tools to make ordering from your suppliers quicker and easier and on time fulfillment percentages increase.
So to summarize in three steps:
Reduce Excess Inventory
Minimize Stock Outs and
Place Supplier Orders Quicker
Please click on the image for a brochure or watch the video on Netstock for Advanced Business Manager.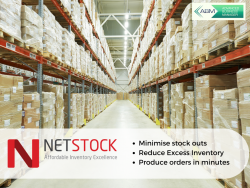 Netstock Features
Dashboards
Netstock uses Dashboards to track KPI performance, giving you quick visibility into the health of your inventory. More importantly, exception lists help you to focus on what is important, resulting in better service to your customers with less inventory.
Tack your inventory value, level of excess inventory and where you are buying too much.
Track your fill rate, your current level of stock outs and where you are predicted to stock out.
Use the exception lists to action the biggest issues affecting your business right now and those that are about to.
Classifications
Classifying stock items by both value and velocity results in a unique classification matrix. This gives insights into your inventory based on movement profile.
Now you can drill down through to your fastest moving products and high value products and easily identify your slow moving and expensive items as well as fast moving inexpensive items.
Stocked, non stocked and obsolete coding determines how each item should be ordered, evaluated for stock outs or excess inventory and the policy that will be applied to each item.
Forecasts
By forecasting every single item automatically, you can save time and rid your company of a laborious manual task. Netstock provides tools to create the best possible forecast resulting in optimal purchasing and planning decisions, helping you to grow your business.
A forecast engine uses historical sales to generate item forecasts using 15 different algorithms, picking up on trends, seasonality and intermittent demand.
The forecast that nest fits the demand pattern of the item is chosen, resulting in great forecasts for the bulk of your items.
The dashboard then highlights the small percentage of items that need manual intervention. Provide a prompt response to changes in demand before they result in stock outs or excess inventory.
Adjust forecasts for new or lost customers, identify new items requiring a manual forecast and make macro forecast adjustments where required.
Order Management
ABM Netstock automatically collects, collates and processes your inventory data, presenting you with the ideal order recommendations at the click of a button.
Instantly create and review purchase orders or internal transfers from ideal recommendations.
Prioritize order placement based on suppliers with items that are stocked out, potentially going to stock out or where existing customer orders cannot be supplied.
Keep track of the current order volume, weight, units or value and immediately see the impact of changes made.
Easily resolve how to fill containers by volume or weight, or to cater for supplier imposed minimum unit quantities or order values.
Review, download and import orders into ABM saving you time and adding integrity to your ordering process.
Web Interface
The easy to use web and mobile interface has been designed to be as intuitive as possible.
Standard web behaviour enables simple navigation and ease of use.
Hover tips provide more detailed information.
Rich graphics enhance understanding.
Listing can be filtered, enable drill through to individual item details and can be downloaded to CSV file.
Benefits
Significant reduction in the time spent on planning, forecasting and ordering.
Improve fill rates by 2-10, minimize stock outs and increase sales.
Reduce inventory by 10-25%, reduce working capital and improve cashflow.
Reduce the risk of obsolescence and the need for overflow warehouses.
The right inventory in the right place at the right time, helping you to grow your business.
Case Studies
Click on each image below to read our Case Studies
Distribution Medical Supplies

Multi Warehouse Packaging