Find out how to automate your warehouse using ASPluris warehouse management. Your business will improve efficiency in goods received, picking and stocktakes
ASPluris Warehouse Management System (WMS) uses mobile devices with scanning capabilities to make it easier to perform stock management tasks such as putting away stock arrivals, picking customer orders, transferring goods to different locations and stocktakes.
The need for mobility has become apparent in realising productivity and efficiency gains in today's competitive business environment.
To maximise the return on investment of modular, scalable and mobile IT infrastructure, a business process and people centric approach is required. ASPluris addresses these complex issues and will improve your organsation's bottom line.
Click on the image below to view the ASPluris Brochure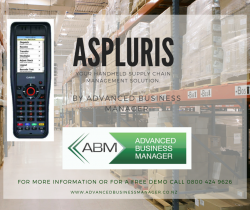 ASPluris Modules and Add-Ons
ASPluris Warehouse Management modules and add-ons include:
DISPATCH
Consolidation, Pick and Pack, Scan Pack
RECEIVE
Purchase Order, Put Away, Store Pallets, Purchase Shipment, Replenish, Repack, Label Printing
TRANSFER
All from a location, Individual Items
STOCKTAKE
Stocktake, Stock Adjustment
HARDWARE AND SOFTWARE
ASPluris Warehouse Management is an innovative real-time mobility suite of modular solutions which provide reliable, cost effective mobile warehouse solution that is easy to deploy and maintain. ASPluris provides the most advanced distribution, logistics, inventory and stocktake functionalities in the palm of your hand.
BUSINESS BENEFITS
Mobilizing your people with ASPluris empowers them to work more productively and efficiently, thereby improving customer satisfaction, giving you an edge over your competitors.
Accurate real time inventory visibility and processing
Ability to monitor staff KPI's such as time taken to pick
Elimination of picking errors
Reduced time for order picking
Scalable and modular
Fast return on investment
MARKETS SERVED
ASPluris warehouse management is as flexible as it is functional and serves most industries and sectors including:
Warehouse, Logistics and Supply Chain
Manufacturing, Engineering and Fabrication
3PL
Field Sales and Service
Construction and Contracting
Government
Food Processing
Wholesalers and Distributors
Retailers
Health
Importers and Exporters
Mining
FEATURES OF ASPLURIS WAREHOUSE MANAGEMENT
Date and batch code controlled inventory rotation
Ability to scan multiple pack size barcodes per product
Perform accurate stocktakes
Pallet and/or carton label printing including SSCC labels
Multiple location and warehouse inventory management
Volumetric Packing and freight information
Reads both barcodes and RFID tags