Ajendico Get Started Team will guide you through the process from installation on your server or in the Cloud right through to "Go Live' and your fully audited conversion. Ongoing support and regular daily contact will be provided for the first month.
On completion, one month after "Go Live", choose your preferred contract. Ajendico Support Team will provide ongoing support to your company and can assist with your ongoing project management and ad hoc support requirements.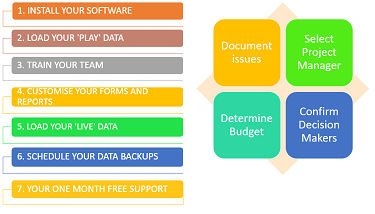 OUR POINT OF DIFFERENCE
We sell our time at a fixed cost. We call it the "Get Started Pack" and it covers the
7 steps to get you from where you are now to where you want to be.
1) We install the software on your network
2) We convert your data as a play area
3) We provide onsite training with notes & backed up by our video training library
4) We customize your forms & reports plus any custom programs we have agreed
to provide
You decide when you go live. This allows you to test every different module
available then you decide what to buy at the end of the process, not the
beginning. If you find an issue, we guarantee to fix it before you go live.
The final 3 steps in the project are
5) Go Live conversion
6) Scheduling automated backups and
7) Unlimited free phone and email support for the first month.