Ajendico Pty Ltd has been selling & supporting business software since 1995. We have developed a reputation for delivering customised solutions for our customers. We are available in all major cities in Australia , namely  Sydney , Melbourne, Brisbane and Adelaide
At Ajendico we take the time to understand the unique needs of each of our customers and tailor an integrated software solution which best meets their needs.
Our success is dependent upon the expertise of our consultants, developers, support staff and experienced trainers. We are driven to find the right solution for our customers so that they can run their business more efficiently allowing them to grow and consistently provide a high quality of service & support.
Together, the owners of Ajendico, Di & Sue Peters, have over 60 years of experience in information technology.
Di comes from a banking and accounting background and has run successful businesses of her own. Di has a passion & an aptitude for problem-solving and process improvement.
Sue has worked in a broad range of IT roles with prominent organisations including Government Medical Fund, IMB Bank, Ansett Air Freight, WIN TV Nine Affiliate Sales, EDS, and Diageo, Sue brings a complementary skill set to the team. For the past 15 years, Sue has worked predominantly with Advanced Business Manager software and has a wealth of experience in software installation, staff training and user support.
Along with Di & Sue, the Ajendico team comprises of: programmers, technical support staff, software training staff and more recently the addition of administrative assistants and quality & business management staff.
How we support your business
Ajendico offers a range of services to assist your business to grow
Ajendico can install products on your in-house server, on a hosted server or in the Cloud, using thin client technology. We work with each client to determine the best solution for your business taking into consideration, the advantages and disadvantages of each option.
Our consultancy service, includes, but is not limited to, new software installations, major system upgrades, business analysis, allowing us to customise programs and reports to meet your specific requirements,  large scale changes to the systems and processes currently in use by your business.
Programming, Crystal and Alchemex Report Design
All our products include a large range of general reports to allow you to gain accurate information on the business. For more specific information, our Crystal & Alchemex Reports design team can assist. Using the customers brief, we will prepare a sample report for each request. We can also provide trained staff to help you in assessing your requirements. Where the task requires more than reporting, a tailored solution will be provided on time and within your budget.
Implementation of New Systems
We sell our time at a fixed cost.  We call it the "Get Started Pack" and it covers the 7 steps to get you from where you are now to where you want to be.
It's our point of difference:
We install the software on your network
We convert your data as a play area
We provide training (onsite/online) and provide your staff with training notes and we also can give you access to a video training librar
We customise your forms and reports plus any custom program we have agreed to provide
Go live within 3-6  months from start . During this time you can test every different module available.  This allows you to test every different module available, then you decide what to buy at the end of the process, not the beginning.  If you find an issue, we guarantee to fix it before you go live.
The final 3 steps in the project are:
Go Live Conversion
Scheduling automated backups and
Unlimited free phone and email support for the first month.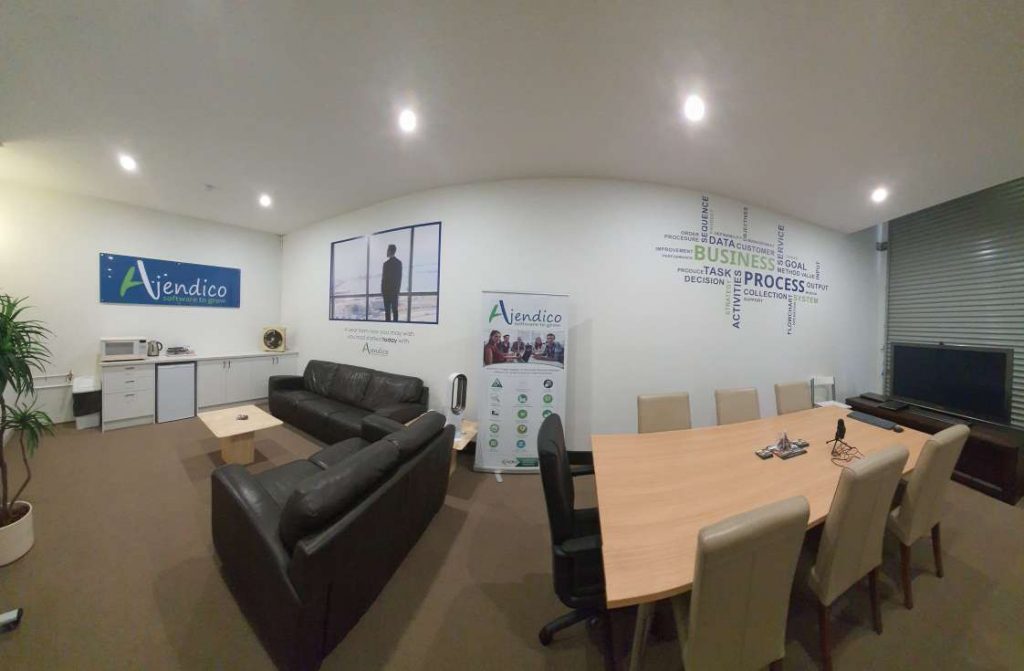 Staff Training & Video Training Library
The quickest way to increase productivity is staff training. Held in our training rooms at convenient locations, we regularly conduct training courses designed to get the best out of your staff and your systems. Choose from a range of standard courses, or ask us to design a course specifically for your needs.
Customer questions are quickly resolved by either phone or email. Our support team are available to assist you from 9 am till 5.30 pm AEST Monday to Friday for all support enquiries. You can email support@ajendico.com.au, or if you prefer you can call our support team on (02) 9570 1966. Critical support is available out-of-hours, 7 days a week, 365 days a year via mobile.