ABM's Proof of Delivery app is designed to allow you to record the signature of the recipient and payment, if required, on pick up or delivery of goods and services. The app can be configured to use either deliveries or invoices as the transaction type to use.
Use the mobile app to scan the barcode on the customer delivery docket or invoice or you can use the app to select a delivery or invoice from the list of outstanding transactions available. Once the goods have been signed for, that transaction no longer appears on the list.
Once the customer signs and pays for the goods, the date and time, signature and payment method and any notes will be recorded against the delivery docket or invoice and these custom fields are available on the column chooser to view an updated list of which invoices have been delivered in real-time.
The client signature stores as an attachment to the invoice and can be reprinted or emailed with the custom information including the signature to prove delivery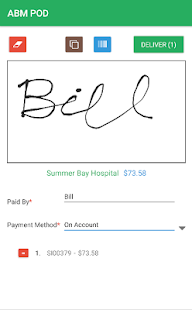 Scan delivery docket or invoice barcode or select deliveries or invoices from the customer list
add signature, date and time, payment method and notes
Save transaction and the data stores against the invoice as attachment
Reprinted or email invoices show the stored information including signature